The second edition of 'A Storm of Crows & Shadows' is here!
Following their wonderful first edition, Empire is taking you on a new adventure with 'A Storm of Crows & Shadows 2′ (#ASOCAS2), a Shadow & Bone convention based on the Netflix show! Of course you can count on us to tell you all about it!
If you miss the first edition…
If you were in Paris on August 27 and 28 you may have had the chance to meet some of the actors from the Shadow and Bone series during the first convention. As you can see on the pictures bellow (also available in our gallery) everyone was having fun and all the fans had the opportunity to spend some quality time with this lovely cast!
We also had the chance to be there and we did learn a lot of things during this weekend, as you can read thanks to our live-tweets.
Whether you miss this convention or you would like to know what an event like that looks like, we highly recommend you to watch our recap video, it's always worth it!
…be sure to be part of the second one!
As you can see, Empire has already announced some "old" and "new" faces for this second edition which will take place on May 20 and 21 2023 in Paris. Archie Renaux (Mal Oretsev in Shadow and Bone) will be in the french capital for the first time!
Ben Barnes (Darkling), Amita Suman (Inej Ghafa), Freddy Carter (Kaz Brekker) and Calahan Skogman (Matthias Helvar) are, for sure, thrilled to come back to spend more time with their fans!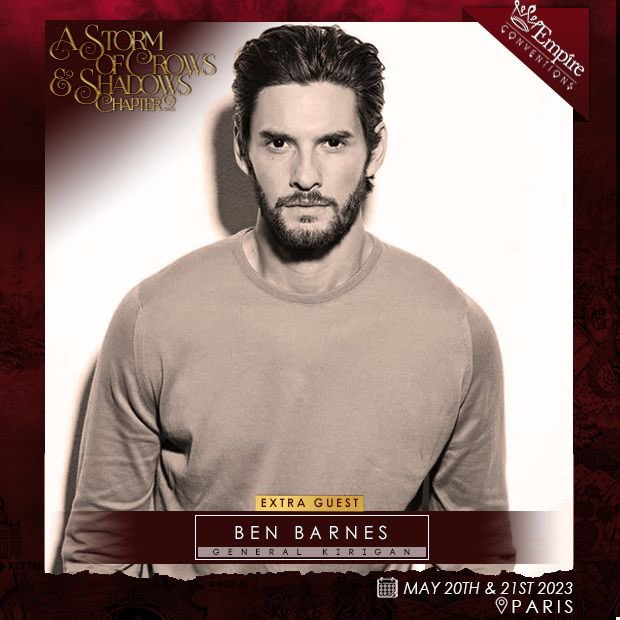 We still have a few months left before #ASOCAS2 so we can expect more guests to join this list. Every actors will be there to answer fans' questions and maybe even tell us some secrets about Shadow and Bone season 2. Talking about this second season, we still haven't got the release date but while we wait, we can at least watch the sneak peek released by Netflix. We've also made a video about potentiel plots for the new season (warning: there are spoilers from the books), so make sure you check it out and tell us your theories in the comment section!
Keep in mind that to buy one of the guest's extras (such as photoshoots, autographs, meet and greet or special activities), you need to purchase a pass before, which can also be found on the ticketing website.
If you have any question about this event, you can join the facebook group, which is also a great way to discuss theories about the series and make new friends along the way!
If you don't want to miss any news regarding both this event and the second season of Shadow and Bone, be sure to follow us on twitter and instagram, we will be happy to keep you updated!